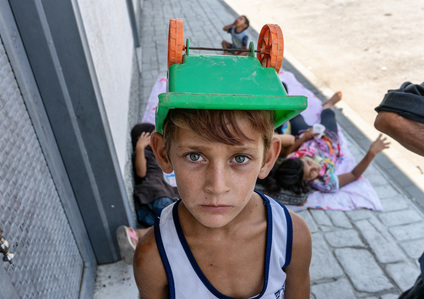 ENG:
UNWRITTEN TRAVELLERS is a long term project that explores the stereotypes about the Roma population.
It deals with the consolidated narration that reduces the Roma to some fixed categories. Positive or negative stereotypes, romanticised or discriminatory: the Roma are free, thoughtless, anti-capitalist, talented in music, but also dirty, thieves, vagrants, slackers.
But then, one step closer: the Roma tell their stories, give their views on stereotypes. When their voice takes over the scene, illuminating some corner of their daily life, the picture becomes immediately more complex, articulated and reveals new colours. UNWRITTEN TRAVELLERS does not want to demolish the dominant narratives, it does not aim to overturn the perspective, but rather to add nuances to this picture, to arouse doubt.
The zoom focuses on five Roma places par excellence, each with its own characteristics but with a single powerful point in common: they all belong to the periphery of the Balkans and Eastern Europe, lands that are commonly considered the places of origin of the Roma.
These five places have been chosen because they exhibit, in their simple complexity, the cracks of that gloomy vision that the word "Roma" usually evokes:
Šuto Orizari, North Macedonia. In "Shoot-ka", as the municipality is called in Skopje, Romanì has been adopted as official language. It is the only municipality in Europe with this peculiarity.
Soroca, Moldova. It is nicknamed the "European Roma Capital" and is known for its extravagant residences;
Shkozë, Albania. It is a neighbourhood in Tirana built to move an entire Roma community that used to live in a dangerous area on the banks of a river
Stolipinovo, Bulgaria. It is a district of Plovdiv known as "The largest Roma ghetto in the Balkans";
Alsószentmárton, Hungary. It is the settlement with the highest percentage of Roma in Hungary.
ITA:
PERIFEROM è un progetto fotografico che gioca con i luoghi comuni sui rom.
Si parte da quella narrazione consolidata che riduce i rom a categorie fisse. Stereotipi positivi o negativi, romanticizzati o discriminatori: i rom sono liberi, spensierati, anticapitalisti, talentuosi nella musica, ma anche sporchi, ladri, vagabondi, fannulloni.
Si compie però poi un passo in più: i rom si raccontano, dicono la loro sugli stereotipi, incalzano l'osservatore. Quando è la loro voce a prendersi la scena, illuminando qualche angolo del loro quotidiano, ecco che il quadro si fa immediatamente più complesso, si articola e rivela nuovi colori.
PERIFEROM non intende demolire le narrazioni dominanti, non punta a ribaltare la prospettiva, ma mira ad aggiungere delle sfumature a questo quadro, a suscitare il dubbio.
Lo zoom si concentra su cinque luoghi rom per antonomasia, ognuno con le proprie caratteristiche ma con un'unica potente comunanza: appartengono tutti alla periferia. Si tratta di villaggi, città e comunità stanziali dei Balcani e dell'Europa centro-orientale, terre che comunemente sono considerate i luoghi d'origine dei rom che affollano le nostre strade, i mercati, le case popolari.
Cinque luoghi scelti perché esibiscono, nella loro semplice complessità, le crepe di quell'immaginario fosco che di norma evoca la parola "rom":
Šuto Orizari, Macedonia del Nord. È l'unica municipalità in Europa ad aver adottato il romaní come lingua ufficiale;
Soroca, Moldova. È soprannominata "Capitale europea dei Rom" e spicca per le sue dimore stravaganti;
Shkozë, Albania. È un quartiere di Tirana dove il comune ha trasferito un'intera comunità rom che prima risiedeva sulle sponde di un fiume;
Stolipinovo, Bulgaria. È un distretto di Plovdiv noto come "Il più grande ghetto rom dei Balcani";
Alsószentmárton, Ungheria. È l'insediamento con la più alta percentuale di rom in Ungheria.